What is Kinesiology Tape?
Kinesiology tape is a special type of athletic tape made with a blend of cotton and elastic and is designed to mimic the thickness and elasticity of human skin. It is highly flexible, created specifically to provide a greater range of motion without pulling the skin or causing pain. It can also be left on for longer than traditional athletic tape, is water-resistant, does not peel as easily, and dries quickly. 
How Does Kinesiology Tape Work?
Generally, it is thought that when kinesiology tape is applied correctly, its elasticity gently lifts the skin from the tissues underneath, creating microscopic spaces that promote a better flow of blood and lymphatic fluid. This improved flow helps alleviate pressure and reduce swelling, allowing oxygen and other nutrients to reach damaged tissues and promote quicker healing. 
As a result, kinesiology tape is mainly used to reduce pain and inflammation, support injured muscles and joints, prevent cramps and spasms, and enhance muscle tone, all without restricting the range of motion.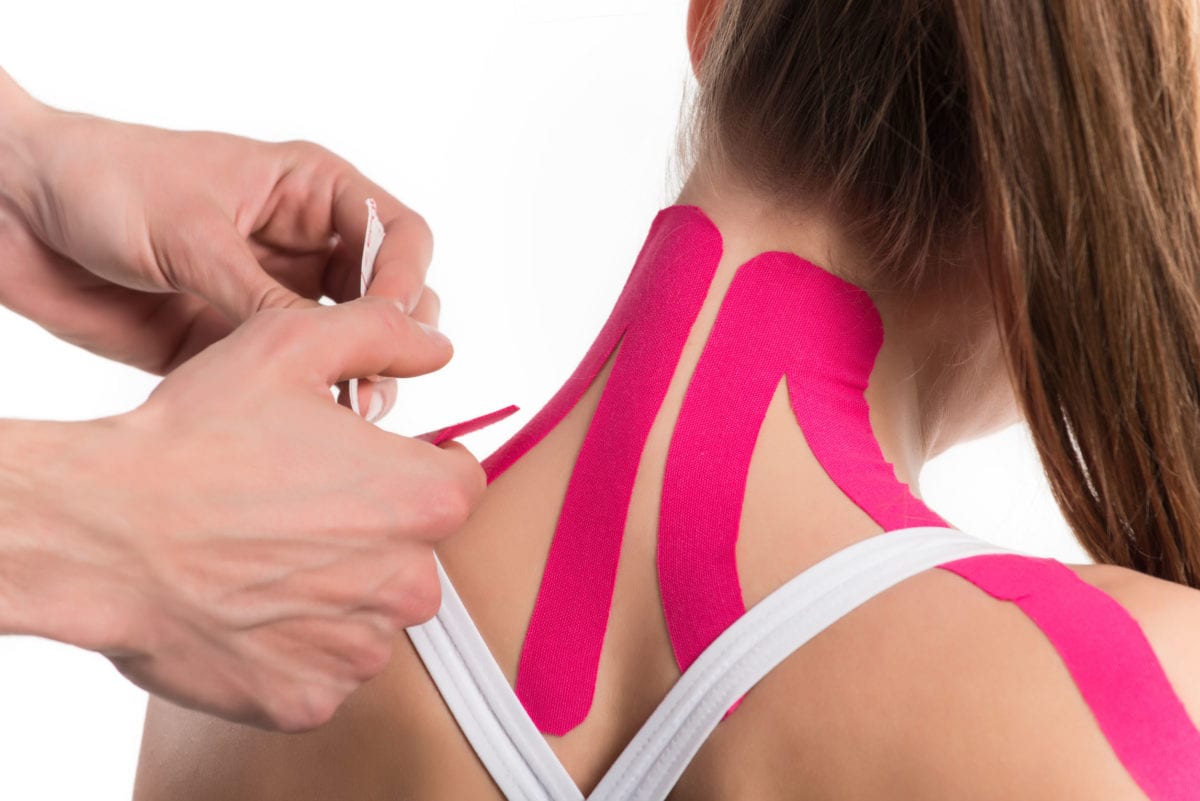 What Is Kinesiology Tape Used For?
Its unique properties and benefits mean kinesiology tape is ideal for a diverse range of applications for athletes as well as other physical therapy patients. Some of the most popular uses for kinesiology taping include: 
Injury Treatment
Physical therapists often use kinesiology tape as part of an overall treatment plan for injured athletes. It has also been known to work incredibly well with manual therapy. 
Pain Relief
This tape has also been found to provide long-term relief from muscle, tendon, and ligament pain. It does this by reducing pressure in the soft tissue, reducing pain and inflammation, promoting a safe, healthy range of motion, and redirecting stress to other muscles and ligaments. Kinesiology taping is also thought to be able to change how the body perceives localised pain by altering how the skin and fluids interact with the affected area and reducing the pain signals sent to the brain. 
Improved Athletic Performance
Kinesiology taping is used by some athletes to assist them in protecting themselves against injury, promoting better movement, and helping them perform at peak levels during training and special events. 
Improving Lymph Flow
Kinesiology tape can potentially aid in muscle growth and soft tissue injury recovery by changing the tension of the skin and creating more space for the flow of blood and lymph fluid. Theoretically, this space changes the pressure gradient under your skin, allowing the proteins and other chemicals in the lymph fluid to better flow through the body, regulating swelling and fluid build up more effectively. 
Joint Stability and Support
When applied correctly, kinesiology tape can provide more stability and support to joints that need it by creating motion-limiting tension that prevents further strain. 
Decreasing Tissue Pressure 
Kinesiology tape can also decrease pressure build up in the soft tissue, promote muscle growth, and stretch out tendons by pulling on the skin in specific ways to create more subcutaneous space. 
Stress Redirection
Kinesiology tape can help to redirect stress from a damaged ligament or tendon through the creation of tension and support across several muscles. The tape works by pulling the tension away from the problem area and redistributes it to the nearby soft tissue, allowing ligaments and tendons to relax. 
Muscle Re-Education
Kinesiology tape can also be used to retrain muscles that have lost function or are working in an unhealthy way.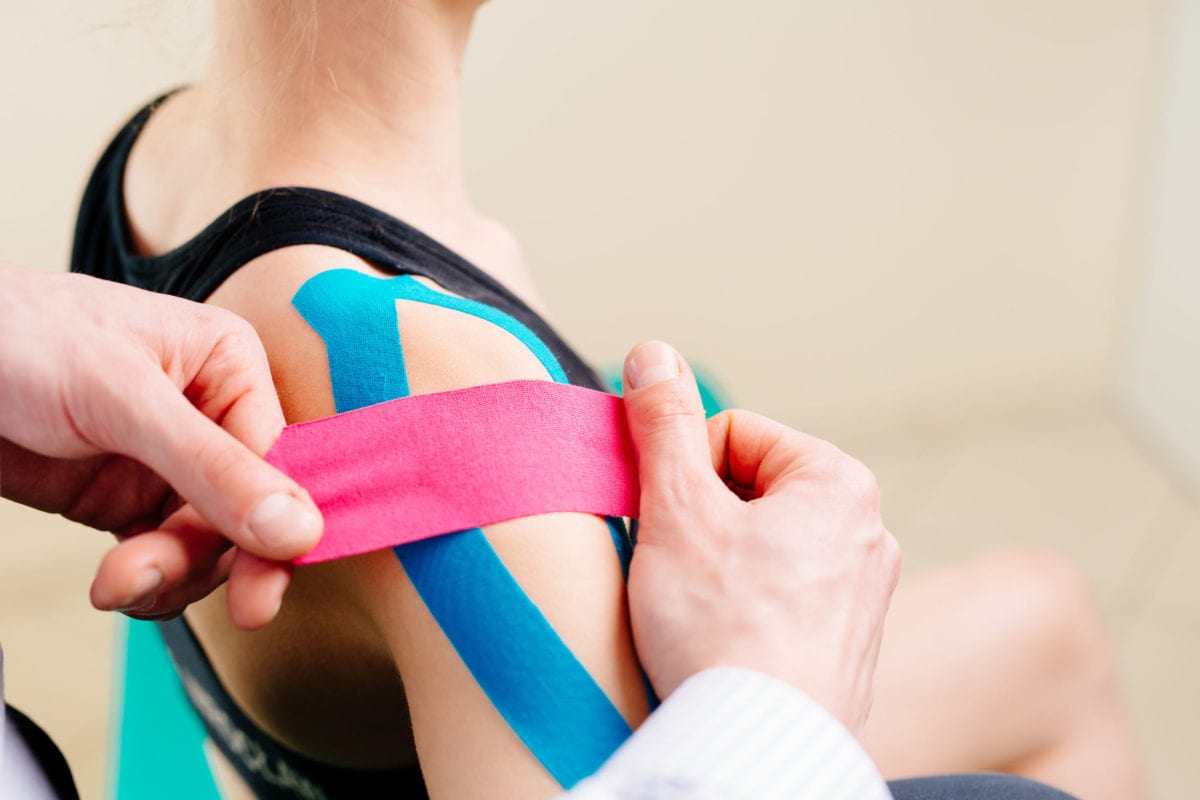 If you are recovering from a soft tissue injury, kinesiology tape may be a valuable addition to your recovery plan. There are many different ways kinesiology tape assists with tension reduction, healing rates, injury management, and performance enhancement, and it boasts a wide range of benefits for athletes and non-athletes alike. 
At Core Elements injury clinic, we take pride in providing kinesiology taping assistance and advice, as well as additional, comprehensive sports therapy support to every client. To find out more about kinesiology taping and how our team can help you take advantage of its benefits, get in touch with us today by emailing Dawn@coreelements.uk.com .
At Core Elements Training Centre, we provide an accredited day CPD course in Kinesiology Taping for those who would like to train in this modality. 
Our accredited day CPD course is delivered as face to face training at our centre in Swindon and Liverpool, or via Live Online delivery. 
This is an ideal course for those who would like to use this modality within a clinical or team environment, such as Sports Massage and Sports Therapists, Physiotherapists, Chiropractors, Osteopaths and Rehabilitation specialists. To find out more or to book a space please 'Click Here'.