Yoga practice and the prenatal mother
By Dawn Morse MSc
As published in Om Yoga and Lifestyle Magazine
Pregnancy can be a challenging time for a mother as many physiological and psychological changes occur over the weeks. Many of these changes occur due to fluctuations in hormone levels. However the expectation of a new baby can also place life changes upon a new mother.
Regular yoga practice can help with both life and physiological change that is experienced during pregnancy as multiple benefits are received.
Yoga practice provides the ideal opportunity to re-connect with the changing shapes of the pregnant body. Gentle yoga practice can help to maintain strength and posture, whilst helping to reduce tension that can occur through the changing position of the spine and pelvis. Breathing techniques which accompany yoga practise can also help to replenish energy stores leading to feelings of rejuvenation.
In essence gentle yoga practise can help to relieve tension and recharge energy levels, thus providing an enhanced sense of wellbeing.
Many women experience a lack of energy as a result of hormone changes and the additional demands placed on the body during pregnancy. This in turn can lead to reduced levels of physical activity, which can reduce muscular strength. Regular yoga practice during pregnancy can help to alleviate postural related conditions by helping to maintain and increase abdominal strength, which in turn improves support for the weight of the baby and the uterus. stronger abdominals also help to prevent excessive separation of the linear alba, which in turn helps to protect the spine during pregnancy and means that the mother is more likely to recover quickly and effectively after birth.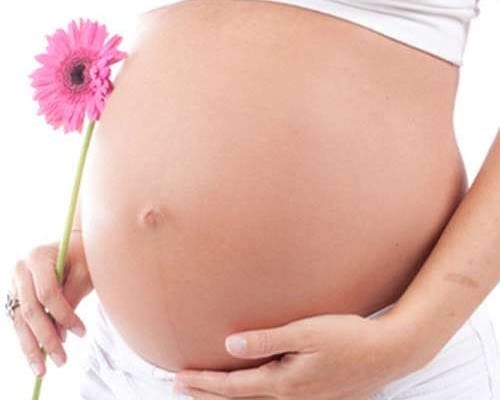 Other benefits of yoga practice include:
Increased cardiovascular and muscular endurance, which aid both pregnancy and delivery.

Promotion of overall good posture, which helps to prevent lower back discomfort.

Increased feeling of relaxation, decreases stress and anxiety levels, increases energy levels during the day and improved sleep at night.

Improved circulation levels in both the cardiovascular and lymphatic systems which helps to prevent leg cramps, varicose veins and oedema.

Reduced shortness of breath in the later stages of pregnancy and aid breathing efficiency during labour.

Aids childbirth by increasing strength within the pelvic floor muscles (through bandha control) and providing increased awareness to this area so that the mother can focus on this area during labour.

Reduces postnatal recovery time due to increased fitness of the mother.
Although the benefits of yoga practice are numerous and well documented, many yoga teachers are uncertain as to when yoga practice should commence for new practitioners. Others also question how pregnancy may affect those who are experienced with yoga practice and if they should transition to a specific prenatal class or stay within their traditional practice with modification.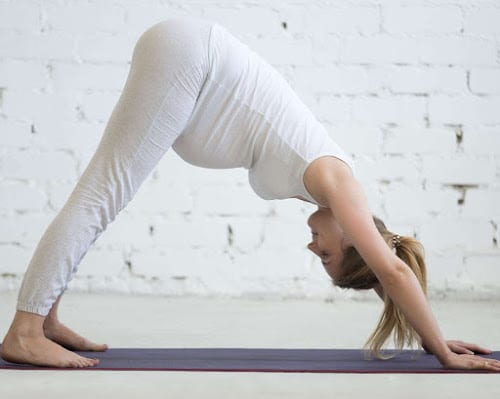 With these points in mind current guidelines for yoga practice during pregnancy is often limited with little supporting research evident. Midwives and doctors, however, will actively recommend the uptake of moderate exercise during pregnancy.
For instance, traditional medical advice suggested exercising women should reduce high intensity activity for more moderate levels of exercise and non-exercising women should refrain from strenuous exercise programmes. This was based on concerns that exercise could affect early and late pregnancy outcomes by increasing the risk of core body temperature, congenital abnormalities and shifting oxygen away from the fetus.
Additional concerns included maternal injury due to postural and centre of gravity changes, and injury due to blunt force trauma or stress effects from sudden movement.
Research by Davies, Wolf, Mottola, and Mackinnon (2003) into aerobic and strength conditioning exercise showed no increase of early pregnancy loss, late pregnancy complications, abnormal fetal growth, or adverse outcomes due to the effect of physical activity and exercise participation. It was therefore suggest that, previous recommendations were too conservative for the pregnant mother. Furthermore Davies, Wolf, Mottola, and Mackinnon (2003) identify that the reduction of exercise during pregnancy could lead to multiple negative effects such as:
Loss of muscular and cardiovascular fitness.

Excessive maternal weight gain.

Higher risk of gestational diabetes.

Higher risk of pregnancy-induced hypertension.

Development of varicose veins and deep vein thrombosis.

Higher incidence of physical complaints such as back pain, shortness of breath and poor psychological adjustment to the physical changes of pregnancy.
Present medical guidelines now advise that during uncomplicated pregnancy,  women should be encouraged to participate in regular exercise.
Current medical advice identifies that all women without contraindications should be encouraged to participate in aerobic and strength-conditioning based exercise as part of a healthy lifestyle during pregnancy. Exercise goals during pregnancy should however, be modified to maintain a good level of fitness, without aiming to reach peak condition.
In addition medical advice suggests that women should choose activities that minimise the risk of loss of balance and trauma, from collision or falls.
It is important, however, that previous medical history of the pregnant women is taken into consideration, in order to assess for any contraindications prior to physical activity.
For instance mothers who have been affected by preterm labour, hypertension, growth disorders, uncontrolled diabetes or multiple pregnancy, should be advised to seek further medical advised if they wish to participate in any form physical activity.
For instance mothers who have been affected by preterm labour, hypertension, growth disorders, uncontrolled diabetes or multiple pregnancy, should be advised to seek further medical advised if they wish to participate in any form physical activity.
Any pregnant mothers who have suffered a previous miscarriage or previous preterm birth, who have a mild or moderate cardiovascular (heart or circulation) or respiratory disorder, who are suffer from anemia, malnutrition or who are carrying twins after 28 weeks, should also be monitored closely. They may be advised to receive medical clearance before continuing with physical activity.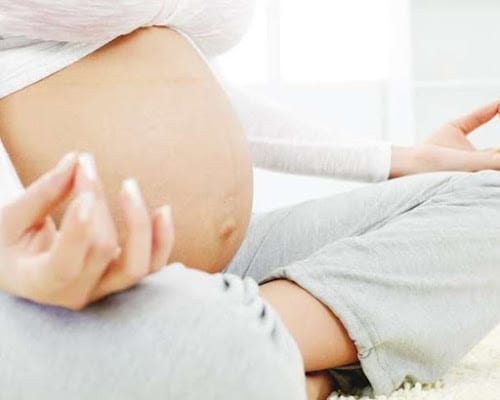 Although these guidelines are recommended in line with general exercise and physical activity, they can be used in line with yoga practice. As in its very basic form Hatha yoga, is a form of physical movement of the human body, with Asana practice being a vehicle for purification of the body. Through Asana practice the body develops muscular strength, endurance and flexibility, which can help to identify Hatha yoga practice as a form of physical activity.
Scientific research into effects of physical activity on the human body, can therefore, be applied and considered within realm of yoga practice. As the patron saint of yoga (Patanjali) said, 'mastery of yoga combines a balance of science and art, and knowledge of science is the colour of the artist's palette. With greater knowledge, more colours are available to the artist'.
When relating this information to yoga practice is it clear that yoga has positive physical effects on the body and plentiful benefits to the pregnant mother.
New practitioners to yoga should be encouraged to develop their practice slowly with the aim of maintaining physical fitness and body condition. Specific prenatal classes are ideal for this development and are an ideal place to develop a support network to aid the transition into motherhood.
Those who are experienced yoga practitioners and are not experiencing any adverse effects from pregnancy may feel comfortable to stay with their current practice. In these cases, modifications to specific postures, such as deep abdominal twists, should be provided in order to accommodate for the changing body. As the body changes through the stages of pregnancy, yoga practice may become more focused towards relaxation.
Mothers to be, should be encouraged to have the confidence to listen to their own body and its development, in order to maintain physical condition for labour and the post natal period.